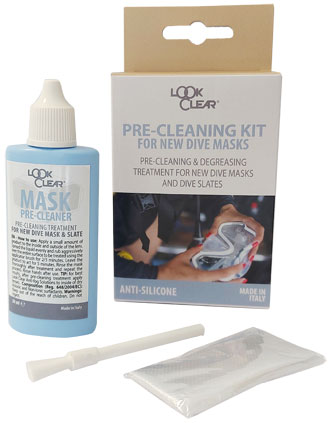 MASK PRE-CLEANER & DEGREASER FOR NEW DIVE MASK AND SLATE



Innovative treatment which carefully removes the silicone residue deposited on the new mask lenses during production process. Pre-cleaning lenses of a new dive mask is a necessary action to take before any application of anti-fog liquids as it allows them to work more effectively while ensuring a clear and sure visibility underwater. It can be used also to gently clean dive slates. Specific solution for use on glass. It does not damage the plastic parts of the mask. With sponge applicator.


How to use: Apply a small amount of product to the inside and outside lens by pressing the sponge applicator on the surfaces until the liquid comes out. Spread the product by rubbing aggressively for 2/3 minutes. Let the product to act for 5 minutes. Rinse the mask thoroughly after treatment and repeat process.


TIP: for best results, after pre-cleaning treatment apply Look Clear Anti-fog Solutions to inside of lenses.



---

Product: Mask Pre-Cleaner Product Code: MSK005 Contents: 50ml