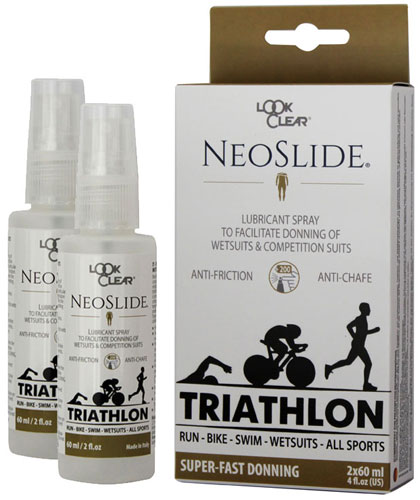 NEOSLIDE® - LUBRICANT SPRAY FOR WETSUITS DONNING

NeoSlide® Spray has been specifically conceived to facilitate donning / doffing of swimming suits, triathlon and competition suits. NeoSlide® is ready for use and its particular composition leads to the temporary formation of a lubricating film that greatly simplifies the wetsuit donning operation, while preventing chafing and skin irritation.


Technical Features:
• Hypoallergenic, non-toxic and odourless formula.
• Facilitates entries and creates super-fast exits from wetsuits.
• Protects the main points exposed to constant friction during all sports activities with the wetsuit, such as the knees, wrists, neck and elbows, avoiding chafing or irritation.
• It can be used in any sport that involves the use of neoprene wetsuits or competition suits, such as TRIATHLON, SWIMRUN, DIVING, SURF, KITE, etc ...
• Does not stain and can be easily removed with soap and water.
• Comes in a convenient and hygienic spray, NeoSlide is easy to use and safe to share.
• It is waterproof and sweat resistant.


How To Use:
Shake well and spray 2/3 times the liquid on the wrists, elbows, knees and ankles. Proceed to donning the wetsuit.


---

Product: NeoSlide Spray

Product Code: NS0060

Contents: 2x 60ml