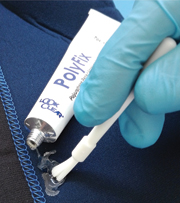 Polyurethane Repair Adhesive & Sealant with Brush Applicator


FLEXIBLE FINISH

PolyFix Polyurethane Adhesive provides a clear, strong and flexible finish suitable for permanent waterproof repairs to holes, tears or leaking seams in most types of water sports items, such as neoprene wet and dry suits, gloves, rubber boots, latex neck and wrist seals, surf kites and bladders, inflatable mattresses, kayaks or waterproof clothing.

PolyFix can be also used to high wear areas like neoprene knee and elbow sections to help protect against abrasion.

Features
• Applicator brush included in the pack.
• For all watersports items and inflatables.


---

Instructions For Use:
Clean the damaged area and apply PolyFix directly from the tube or using the applicator brush. Let it act and dry for 5-10 hours.

Holes and tears: Create backing with adhesive tape. Fill void and 6mm beyond the edge with PolyFix. Remove the tape after drying process.

Seams: Apply a 2mm thick layer overlapping seam edges by at least 6mm. Apply with light pressure to saturate the fabrics.


---

Product: PolyFix Sealant Product Code: PF0210 Contents: 2x 10gr