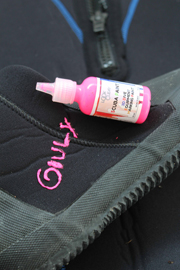 3D DIVE EQUIPMENT MARKING PAINT

Give Your Gear a Personal Touch & Make It Distinctive

Flexible 3D marking colour paint ideal for all your artistic customization projects over your dive equipment. Identifies your dive equipment. Usable on all kind of fabrics (wetsuits, neoprene garments or BCD'S) and plastic (bags, hoses and fins).


Features:
• Non-toxic.
• Dry's in 24 hours.

5 Colours Available:
• Neon Fuchsia, Neon Green, Neon Orange, Neon Yellow, White.


Advices For Use:
Not recommended for silicone rubber. Dry's in 24 hours.


---

Product: Scuba Paint Product Code: SCP030 Contents: 30ml