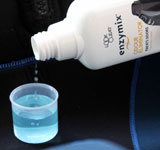 UNIQUE NATURAL ENZYME BLEND

DEODORIZE - TREATS ODOURS

Special Odour Eliminator based on enzymes and natural extracts, environmentally friendly, identifies and destroys gently bad odours caused by mould, mildew and bacteria, from neoprene clothing, fishing boots, sports and all kind of outdoor equipment.


Technical Features:
• Reef-safe & Eco-friendly Formula.
• Destroys bad smells instead of just covering them up.
• Effective on all Dive, Swim and Outdoor gear.



---

Product: EnzyMix Odour Eliminator Product Code: EZX260 Contents: 260ml