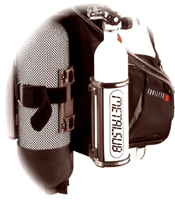 With the Pony Bottle Quick-Release System, the pony cylinder can be coupled to the main air cylinder quickly and easily. Half of the system is permanently attached to the pony cylinder, while the other half is secured to the backpack belt of the stabilising jacket. This half can also be secured by way of two stainless steel clips These clips have been given a protective rubber layer. By pushing in a spring-loaded locking pin with the thumb, the bottles are connected / disconnected. The bottle holder plates come with rubber strips to provide a better grip on the air cylinders. The light-weight metal has been given a seawater-proof coating.


---

The Metalsub Pony Cylinder Clamp is manufactured from highly durable materials. The main assembly is anodised in accordance with American Military Standard MIL-A-8625-E type 3 class 2. Also the coating is impregnated with Teflon.

Assembly:
Attach the tank plate (shorter component) of the system to the main cylinder using your BCD cylinder attachment straps / bands.

The tank plate can also be attached to the main cylinder by using two stainless steel clips (see pictures).

Attach the pony cylinder holder (longer component) to your pony cylinder with the stainless steel clips.

Please ensure that the rubber on the clips are in place before assembly.

Do not over-tighten the stainless steel cylinder clips as this may damage them.

Simply slot the pony cylinder component into the main cylinder component, press the pin and release when the two are joined.

Ensure a secure connection has been made.


Washing Instructions:
Wash with clean fresh water after each use.


Lubrication:
Add silicone lubricant on the lock system.


---



Four Different Systems Available:

Standard System: Total length - 26cm
Short System: Total length - 22cm


This system is ideal when using with a twin setup.

Opposite Standard System: Total length - 26cm
Opposite Short System: Total length - 22cm