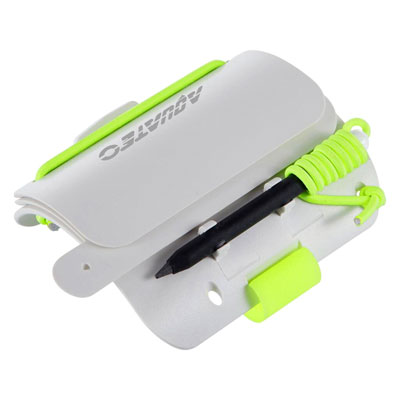 Click on an any image to enlarge the picture

---

For note taking, back up deco schedules, or as a safety communication device to enable you to communicate with your buddy underwater.

Three separate writing surfaces via three leaves that flip up for easy access. An elastic cord snaps the leaves back into place.

The wrist slate fits on the curve of the forearm. Comes with a Velcro wrist strap and elastic cord for the pencil attachment.


Slate Page Sizes:
• 5.5" x 4.2", 3.5" x 4.2" and 3.5" x 4.2".
(13.5 x 10.8cm, 8.5 x 10.8cm and 7.4 x 10.8cm)

Features:
• Two possible fastening systems:
With a Velcro or an elastic bungee strap.

• Three Page Slate Design.
• Useful for Divers of All Skill Levels.
• Durable Plastic Construction.
• Elastic Cord Attaches the Pencil.
• Tube to Secure Pencil.
• Carbon-Stick Pencil.
• Weight: 4.2-oz (0.12 kg).

• Attachments:
• 12" Hook-and-loop strap included.
• Two 3/16" bungee cord lengths included.


---

Materials:
Polyamide Strap,
Elastolefin Elastic band,
Ethylene Propylene Diene Monomer.

Maintenance:
After each use, must be rinsed with fresh water.


---

Product:
Aquatec Multi-Layer Wrist Slate with Pencil / WS-800