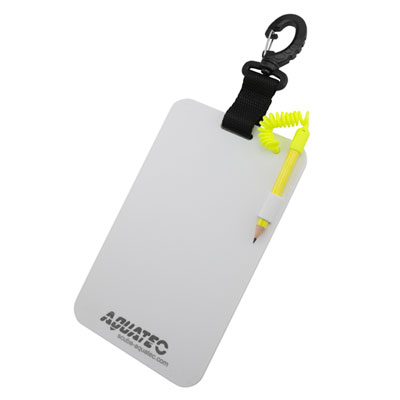 Click on an any image to enlarge the picture

---

This compact 7.6" x 4.7" (19.5 x 12 cm) slate will fit into most BCD pockets, yet has plenty of room for taking notes, conversing with your dive buddy, or writing down skill performance when training.

Unlike more conventional dive slates the pencil is replaceable, so once you use it up you can get a refill for years of continued use. The slate is also equipped with a Corrosion Resistant Locking Gate Clip and Nylon Webbing Loop for easy secure to your equipment and protective tube for storage of the pencil.


Slate Page Size:
• 7.6" x 4.7" (19.5 x 12 cm)

Features:
• Useful for Divers of All Skill Levels.
• Durable Plastic Construction.
• Corrosion Resistant Locking Gate Clip attached by Black Nylon Webbing.
• Elastic Cord Attaches the Pencil.
• Tube to Secure Pencil.
• Replaceable Pencil.


---

Materials:
Plastic, Nylon Webbing.

Maintenance:
After each use, must be rinsed with fresh water.


---

Product:
Aquatec Compact Slate with Pencil / WS-400