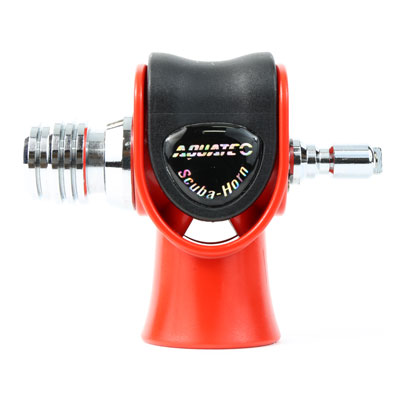 Click on an any image to enlarge the picture

---

This new AQUATEC Scuba Horn is very compact in size. Only the best quality component is used in manufacturing of the AQUATEC Scuba Horn. The loud resonating frequency generated by this horn can be heard on the surface over a 1km range.



Features:
• Horn works on the SURFACE.
• Volume: Surface 125-130 dB.
• Horn is very loud, keep away from ears.

Three models are available to fit of 95% of the inflators currently available.

• AH-380-01:
International connector.

• AH-380-02:
ScubaPro Air 2, Tusa Duo-Air and Atomic SS1.

• AH-380-03:
Aquatec Air-3, Seaquest Airsource, Aqua-Lung Micra, Oceanic Air XS and Zeagle Octoplus.


---

Maintenance:
After each use, must be rinsed with fresh water.


---

Product:
Aquatec Scuba Horn (SH-126)