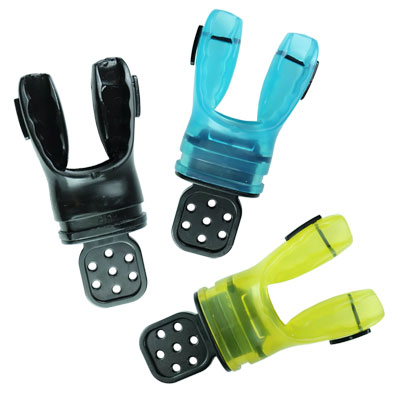 Click on an any image to enlarge the picture

---

Thanks to a new technology created in dental sector, it is now possible to have a custom fit mouthpiece.

This was created as every mouth bite is different and not everyone is comfortable with the standard silicone mouthpiece that comes on a regulator when purchased.

Simply immerse the mouthpiece in boiling water for a few seconds, place in between your teeth and bite down for a personalized mouthpiece giving you more comfortable and relaxing dives.

The latest thing and increasingly popular because many divers get jaw fatigue when it is not correct, so this mouthpiece is perfect as it can be custom fit to you. It is easily attached by a small zip tie, so if you upgrade for change you gear, you can take your mouthpiece with you.


Features:
• Custom Fit Mouthpiece.
• New technology from dental industry.
• High Comfort.
• Strap included.
• Fits most regulators.
• Size: 48 x 48mm.

Colours Available:
• Black or Blue.


---


Maintenance:
After each use, must be rinsed with fresh water.


---

Product:
Aquatec Mouldable Regulator Mouthpiece (MP-950)