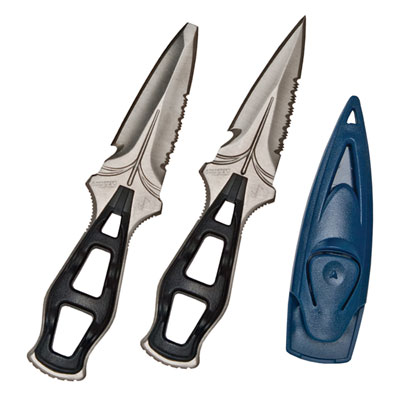 Click on an any image to enlarge the picture

---

Blunt or Pointed Tips Available

The AQUATEC Raptor Dive knife is perfect for diving, camping, and survival. The silhouetted one-piece dive / activity knife is getting more and more popular. The advantages of this type of one-piece knife blade is its thin profile and less weight to make it more portable, but the drawback is that it is difficult and awkward to hold. The Raptor Dive Knife has solved this problem by having an ergonomically shaped handle with a thin plastic insert to give the handle a very comfortable feel.

Quick draw and Reinsert:
AQUATEC Raptor Dive Knives special design of its quick release and lock mechanism which is located on top portion of the sheath, can be access easily and operate by a single hand. Simply push the button to draw the knife, and push the knife all the way down when reinsert. A click can be heard if the knife is completely locked.


The AQUATEC Raptor Dive knife comes with a complete set of mounting hardware:
• The hard sheath has a positive click lock that prevents the knife from being removed until you depress the release.
• It has a mounting on the back of the sheath to which you can attach any of the mounting accessories that come with it.
• There is a hose clamp that will allow you to attach it to your console hose.
• There is a plastic plate that will allow you to attach it to any flat surface on your BCD, such as a strap or pocket flap.
• There is a belt clip that will allow you to attach it either vertically or horizontally to any strap.
• It comes with the stainless screws that allow you to attach the various accessories.
• The main differences will be that the stainless model will be heavier and will require that you keep it clean after use to prevent corrosion. The stainless model was made of the high carbon steel to ensure an extremely sharp edge.


Blade Options:
• Blunt - KN-170SB Raptor Dive Knife.
• Pointed - KN-170SP Raptor Dive Knife.


Features:
• Net Cutter.
• Serrated Edge.
• Pommel.

• Material: 304 Stainless steel.
• Overall Length: 170 mm (6.7 inch).
• Blade Length: 80 mm (3.15 inch).
• Blade Thickness: 4 mm (0.16 inch).
• Weight: 75g (knife body).

• Accessories:
Sheath, Hose Clip, BC Mount.


---


Maintenance:
After each use, must be rinsed with fresh water.


---

Product:
Aquatec Raptor Dive Knife - Blunt Tip (KN-170SB)
Aquatec Raptor Dive Knife - Pointed Tip (KN-170SP)