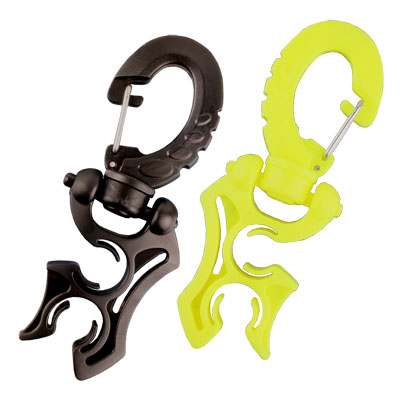 Click on an any image to enlarge the picture

---

Hose Holder fits securely to your BCD allowing 2 hoses to be retained. The hose holder will secure small profile HP hoses as well. It features a 360 degree swivel and a large metal hinge for easy attaching. Sturdy and robust for heavy-duty use.

Hose retainers an essential accessory for protecting fragile marine environments.


Features:
• Twin Hose Retainer.
• Also Secures HP Hoses.
• 360 degree swivel.
• Large Metal Gate Hinge.
• Heavy Duty.

Colours Available:
• Black.
• Yellow.


---

Materials:
Plastic, Metal.

Maintenance:
After each use, must be rinsed with fresh water.


---

Product:
Aquatec Tech Twin Hose Retainer (HH-10)