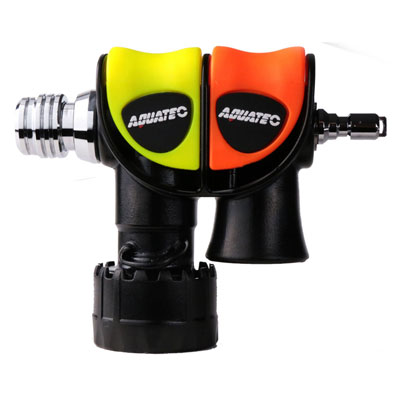 Click on an any image to enlarge the picture
---

This new AQUATEC Duo-Alert is very compact in size. Only the best quality component is used in manufacturing of the AQUATEC Duo-Alert. The loud resonating frequency generated by this horn can be heard on the surface over a 1km. range, and underwater approximately 100 metres.



Features:
• Horn works both
UNDERWATER and on the SURFACE.
• Volume: Underwater 115-125 dB /
Surface 123-130 dB.
• Horn is very loud, keep away from ears.

Three models are available to fit of 95% of the inflators currently available.

• AH-380-01:
International connector.

• AH-380-02:
ScubaPro Air 2, Tusa Duo-Air and Atomic SS1.

• AH-380-03:
Aquatec Air-3, Seaquest Airsource, Aqua-Lung Micra, Oceanic Air XS and Zeagle Octoplus.


---

Maintenance:
After each use, must be rinsed with fresh water.


---

Product:
Aquatec Duo Alert (AH-380)